Open Meet Volunteers
REMEMBER – Our licensed meets are run by VOLUNTEERS,
the more help we get, the better the meet, so don't be shy!!
If you have a specific skill/ talent or you just fancy getting involved, please do not hesitate to offer your services, either directly to a member of the Executive committee or to the Secretary via email
It is essential that where possible ALL parents or careers volunteer at some stage in their child's progression through the club. Some people think that they have nothing to offer, or what they do have to offer will not be of any value to the club, when what we require mostly is just someone's time. All of the tasks for volunteers are relatively simple and there will always be somebody there to show you the ropes and support you for the first couple of times you do the task.
Our meets require a large numbers of volunteers to function, some of the tasks need some training such as time keepers and officials (courses are run occasionally through the year, look on the notice board and website for details if you are interested). Other tasks include :- supplying volunteers with refreshments on poolside, sitting at the door and taking admission fee's and selling raffle tickets, being a 'runner', a steward or a team manager on poolside. If you have a flair on the karaoke then maybe the announcers job would suit you!


Any feedback or concerns
please let Darryl
know via
darryl.ryan@sky.com
OFFICIALS for all sessions
CALLING ALL OFFICIALS

please contact Simon Chiles (hayley.chiles@btinternet.com) or
Darryl (darryl.ryan@sky.com)
if you are available to help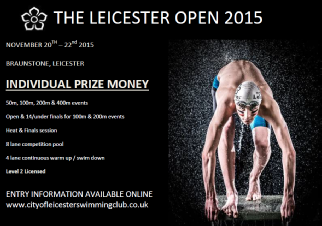 ... We apologise for the delay ... ALL RESULTS are available for Leicester Open on ASA Rankings (Session 3 & 5 being uploaded by mid afternoon 25th Nov)... Session 3 & 5 placings can be found on the Printable Results for each Session ... A BIG THANK YOU to all the CLUBS, SWIMMERS, OFFICIALS and PARENTS AND A SPECIAL THANKS TO ALL THE MESSAGES OF SUPPORT FOR THE MEET AND TOM ... WE HAD SUBJECT TO VERIFCATION & VALIDATION A NUMBER OF S14 BRITISH SWIMMING SHORT COURSE RECORDS ... WE APOLOGISE AND THANK YOU FOR COOPERATING WITH THE ROLLING SPECTATOR SEATING THIS YEAR ...
A special "Thank you" to all the Clubs, Swimmers, Officials and Parents/Spectators for making the Meet so successful (especially all those Officials travelling distances to support our Meet).
RESULTS:
Sessions 3 & 5 can be found via the Printable Results link on the Results page for each Session. RESULTS should all be on ASA Ranking by mid-afternoon (25th November) - we apologise for the delay in posting but we needed to review and check the results against the AOE manually.
We had a number of S14 British Swimming Short Course Records (subject to verification) broken by Jessica-Jane Applegate MBE from UEA Norwich (some of which were her own). I also believe had two Dutch National Age Group Records subject to verification broken by Niamh Holfand. - a special City of Leicester Swimming Club congratulations to Jessica-Jane & Niamh!
Next year we will look potentially at running across two weekends in November to remove the Friday night and allow less rejections.
Thank you all the Clubs/Parents for the messages of thanks and support for the Meet, especially those for Tom.
Information about our Leicester Age Group Meet in April will be posted in early December.
Rejected Entries
Accepted Entries
Meet Sheet
RESULTS